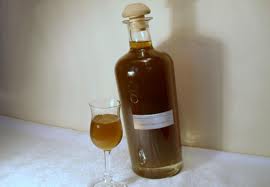 Millefiori
1 gr Lavender Flowers
1 gr Thyme Flowers
1 gr Peppermint
1 gr Cardamom
1 gr Carnation Nails
1 gr Vanilla
1 gr Dittany
1 gr Mace
1 gr Coriander
18 cl Alcohol 95°
50 cl Water
500 gr Sugar
*Recipe for about 1lt of liquor
Grind the spices with a mortar, and put to soak in alcohol into a closed vessel for ten days: it is important to stir the same container twice a day.
Filter the product until the liquor becomes entirely clear, then add water and sugar, and stir the whole until you get a uniform blend.
Bottle with a cork and a sealing wax. Do not open before at least six or seven months.